Love knows no boundaries, and our celebrities have made that quite evident in the past and recent times as well! Our Bollywood Indian celebrities have not let religion or region come in the way of marrying the man or women of their dreams.
Priyanka Chopra recently got married to Nick Jonas in a grand lavish wedding at the Umaid Palace in Jodhpur but she isn't the only Indian star be romantically involved with someone from a different nation. Now that Priyanka Chopra has found love in the foreign shores with Nick Jonas, a few Bollywood actresses and actors have also found their true love in the faraway lands and are very happy and delighted with their decision.
Let's take a look at the famous Bollywood celebrities who have married foreign nationals:
Priyanka Chopra and Nick Jonas:



Priyanka Chopra and Nick Jonas had an amazing reception last night at a suburban five-star hotel in Delhi. Both Priyanka and Nick got married at the Umaid Palace in Jodhpur in a Western Marriage where Nick's father who is a pastor officiated the marriage. The western wedding was later followed with Indian rituals like the mehendi and sangeet leading up to a traditional Indian marriage. The wedding and reception were also attended by close friends and even celebrities and also the Prime Minister of India made a beeline to wish and bless the couple. Priyanka wore a beautiful custom-made Ralph Lauren bridal gown, while her Indian bridal lahenga was made by the Indian designer Sabyasachi Mukerjee. We wish this newly wedded couple a lifelong of love, laughter and a happily ever after. Nick and Priyanka were said to have first got to know each other through our trusty friend, 'the internet' and started a string of conversations over texts, later in 2017 they met again at the Met Gala wearing Ralph Lauren, it was this time they actually started to get to know each other but it was only until few months before they actually dating and ultimately got married this December.
2. Priety Zinta and Gene Goodenough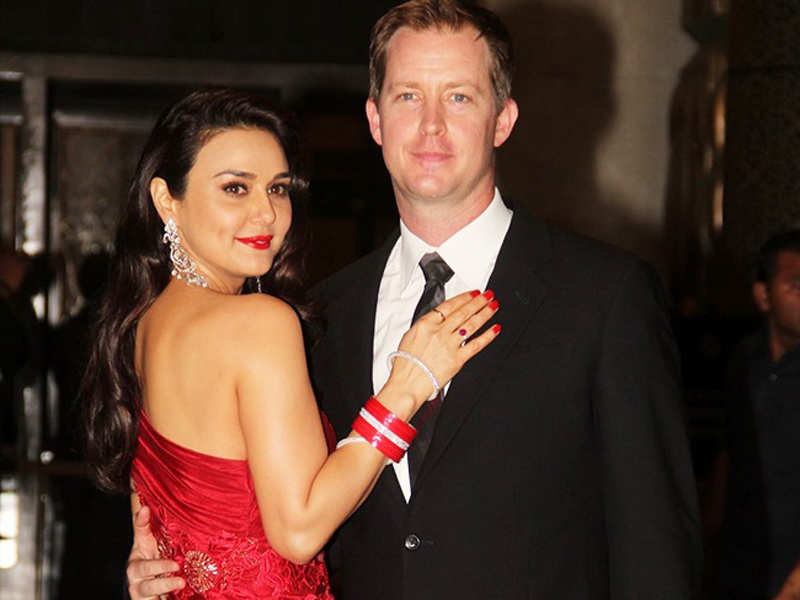 Preity Zinta and Gene Goodenough's wedding was a secret affair and took everyone by surprise as and when the news broke out. Preity's husband Gene is an American and the couple are happily settled in the US. Preity Zinta tied the knot with Gene Goodenough on the 29th of February, 2016 in Los Angeles. Goodenough is based in Los Angeles and is a Management grad from the Marshall School of Business in LA. The couple had a dreamy wedding according to Hindu rituals with the Mandap being set near Mulholland Drive in Beverly Hills. The couple planned to auction their wedding photos for the purpose of charity. The bubbly Bollywood actress did share her picture of her wearing a 'Chooda' in her wrist as a part of wedding celebrations.

3. Illeana D'cruz and Andrew Kneebone
The Bollywood actress, on the occasion of Christmas, took to her Instagram account and shared a picture featuring herself and a beautifully lit Christmas tree.  While the actress has always kept her personal life private, what caught our attention here was the caption that read, "My favourite time of the year ♥️ #christmastime #happyholidays #home #love #family
Photo by hubby @andrewkneebonephotography ♥️"
Although, Ileana hasn't made an official announcement on the same, the caption here sure hints at a secret wedding. (Read "hubby"). Soon this cryptic post was made viral on the internet and fans can't wait for the actress to make it official. We wish them a happy married life.
4. Aashka Goradia and Brent Goble
Aashka found love in Las Vegas and here's how and who! According to sources, the actress was in Vegas for a concert when she met Brent who was hosting the VIP section. Brent is a weapons instructor and range safety officer in Las Vegas. Globe took the big step of moving to India to be with the love of his life and support her career. The couple had a Christian wedding on the 1st of December, 2017, followed by a Hindu wedding on the 3rd of December, 2017 in Ahmedabad.
5. Radhika Apte and Benedict Taylor
Radhika Apte has always remained in the news for her bold scenes and movies with such content. However, one more news that made her in the news was getting married to a British Musician Benedict Taylor. Not many people and fans today know that the Padman actress is married. In 2011 Radhika was in London learning contemporary dance, a renowned contemporary musician, by the name of Benedict Taylor happened to be there (who later gave music for the 2017 Hindi film Newton). With similar interests, they hit off instantly. Soon their bond strengthened and, in a year, they got so serious about each other and eventually got married in September 2012 and officially announced their marriage in March 2013. It was a court marriage.
6. Celina Jaitley and Peter Haag



Being the Former Miss India and Bollywood actress is expected of Celina Jaitley. What is news is this Bollywood actress's marriage to Peter Haag, a Dubai based hotelier and businessman, in the year 2011. Celina met the man of her dreams in Dubai for the first and there was an instant connect. Peter Haag, a hotelier who owns chain of hotels in Singapore & Dubai, came down to India to finally propose to his lady love and the couple got engaged on the 23rd of September, 2010. The couple got married on the 23rd of July, 2011 in Austria and their wedding was no less than a fairy tale. The wedding ceremony took place in a 1000-year-old monastery in Austria against the backdrop of the beautiful gleaming mountains. The wedding ceremony was followed by an exquisite champagne lunch! The duo became proud parents in March 2012 to twin boys and in 2017 welcomed their 3rd son. As for the bridal costume, Celina wore a royalty inspired chiffon saree decorated with gold mukaish.
7. Shriya Saran and Andrei Kosheev
She is known to have in relationship with a few and more known in South Indian film but she settled down with a foreigner called Andrei Koshcheev. She played in B Town films the role of Ajay Devgn in a couple of movies. Shriya Saran got hitched to Andrei Koscheev in a very hushed affair in Udaipur. The wedding took place according to traditional Hindu rituals. Koscheev, from Russia, is an established tennis player and owns a chain of restaurants that serves organic food and has also won the Best Entrepreneur Award in 2015.
8. Arunoday Singh and Lee Elton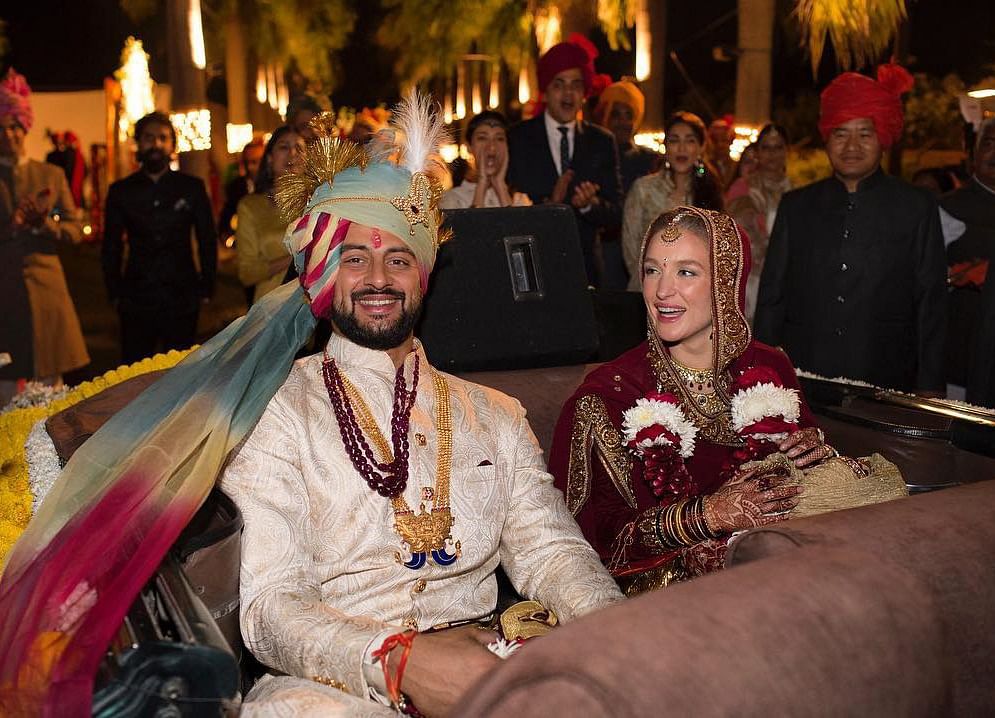 It is official, Bollywood hottie Arunoday Singh is a married man now. The news of his marriage started off as a hoax, but this time, he has tied the knot with his beautiful partner, Lee Elton. The wedding took place on December 13, 2016. This Bollywood actor found his lady love while shoot the film 'Aisha' which stars Sonam Kapoor. It seems that, it's not only the women who are enamored with foreigners but it's also the men too. We wish our Bollywood hottie, Arunoday Singh and Lee Elton a happily married life.
9. Purab Kohli and Lucy Payton
Actor Purab Kohli and his UK-based live-in partner, Lucy Payton surprised everyone when they introduced their baby girl, Inaya, a love child, two years back. Springing a surprise yet again, these lovebirds exchanged vows on February 15th 2018. The actor who is known for films such as Rock On!! (2008), Rock On 2 (2016), and Airlift (2016) says, "We always wanted to get married, but didn't want to rush into it. When Inaya was going to come into this world, it was a glorious moment by itself, and we didn't want to dilute that by suddenly rushing into marriage. We had always planned that we will wait for the right time and the frame of mind, to get settled. But this [wedding] isn't sudden, as we decided on this date, a year back."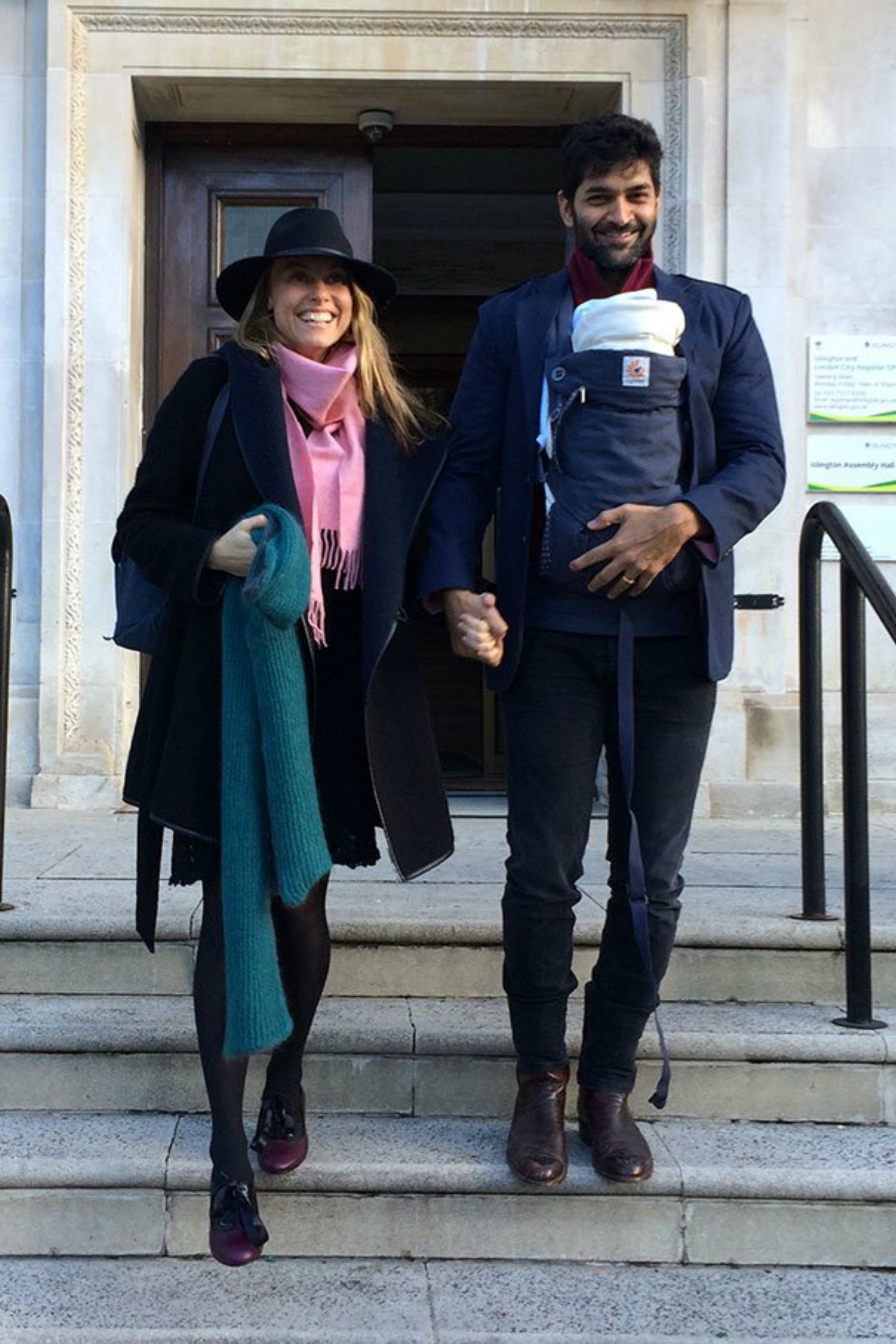 10. Sashi Kapoor and Jennifer Kendal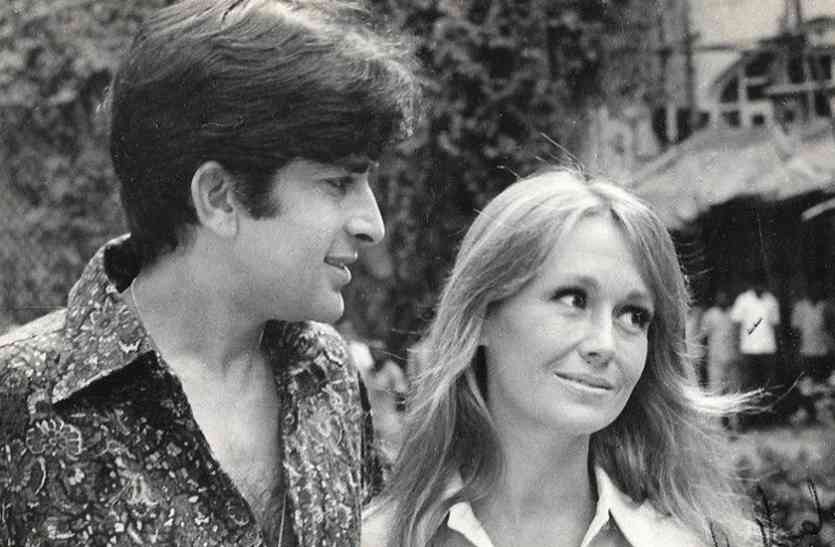 Shashi Kapoor had a fairy-tale romance and marriage, unlike some of his contemporaries. He fell madly in love with British theater actress Jennifer Kendal when they met in Kolkata in 1956. He began touring with her troupe – and they got married two years later. She acted in a number of his films and passed away from colon cancer in 1984. The love couple had three children: Kunal Kapoor, Karan Kapoor and Sanjana Kapoor.
Also read: Deepika and Ranveer wedding photos in Konkani style ceremony
Follow CCAPS Instagram