Alexander Zverev stunned the world and Novak Djokovic to win the season-ending ATP Finals on Sunday, earning the 21-year-old the biggest win of his career. Djokovic, 31, was the heavy favorite to win a sixth finals title but was out shined and outclassed 6-4 6-3 by the German.




The 21-year-old German, made his second appearance at the end-of-season showpiece,  and outlasted six-time champion Roger Federer in the semi-finals and repeated the feat against the world number one.
Djokovic had not been broken once in the tournament coming into the match, winning all 36 service games and only facing two break points but Zverev wrecked his numbers, breaking four times in the match. The German, coached by Ivan Lendl, faltered just once when Djokovic broke him early in the second set but that was the only blemish on an extraordinary performance of power and skill.
Zverev- 'The biggest title I've ever won'
Zverev, 6ft 6in tall with his long hair and gold chains, has a definite star quality – and now he can add the London crown to his three Masters titles. "I really can't describe it. It is the biggest title I have ever won," said Zverev.




He later added in his press conference: "This trophy means a lot, everything, to all the players. I mean, you only have so many chances of winning it. You play against the best players only.
"How I played today, how I won it, for me it's just amazing.
"Obviously it's quite astonishing, winning this title, beating two such players back-to-back, Roger (Federer) and Novak, in the semi-finals and final means so much. I'm incredibly happy and incredibly proud of this moment right now."
We've been talking about the next generation for a couple of years now and Zverev is the best of the lot.He showed it last year by reaching the number three ranking in the world and following it up this year by winning another Masters title in Madrid.
He has played consistent tennis throughout the year and will now finish it as number four in the world.Winning the ATP Finals is a big step for him, now doing it over five sets at the Australian Open in January, and then the other Grand Slams, is where it really matters.
His mental resilience was impressive against Novak, as was his staying power. After breaking Novak's serve he had to serve out for the first set – and hit three aces. That showed his mental strength. Zevrev held his serve easily – regularly hitting serves up to 140mph and finding the target with a high first-serve percentage – and made Novak start to worry.
He wasn't afraid of getting into the long rallies, Novak seemed to be puffing a lot, a lot of running was done, he seemed to be on a mission.Nobody can stay with Novak normally in long rallies but Zverev did and that frustrated Novak.
Zverev missed his first championship point before hitting a sensational backhand down the line for victory, falling to the court in a mixture of disbelief and celebration as Djokovic jumped over the net to congratulate him.
"You definitely played much better than you did the group stage," Djokovic told him with a laugh. "You deserved to win."




Zverev's next challenge is to show he can perform over the five-set format at the Grand Slams. This year he reached his first Grand Slam quarter-final at the French Open and it looks only a matter of time – especially with eight-time major champion Ivan Lendl now in his corner – that he will go deeper into the biggest tournaments.
Is Zevrev the key to the new generation of tennis?
After a well fought match, a defeated Djokovic admitted that the younger players are definitely  making a breakthrough. 'The new generation of tennis players, they bring a lot of power in their game, especially with the serve. I think Zverev, you know, Coric, Khachanov, big, big servers.
Physically they're also very strong. Seems like they physically mature a lot, maybe quicker than maybe my generation did', said the 31-year-old. 'But I guess it takes them maybe mentally more time to put things together and emotionally than our generation.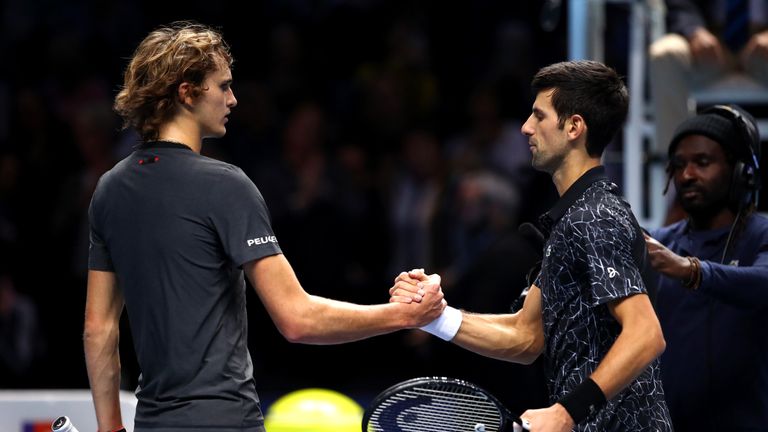 But at the same time, you know, Nadal, Federer and I, Andy, I mean, Stan, this kind of generation has dominated the sport for the last 10 years in terms of Grand Slams, and del Potro, of course. It's definitely not easy for the Next Gen to break through there.




But eventually it's going to happen. One of them will win a slam But I think overall it's good for our sport to see new faces, like Tsitsipas and the players I mentioned already…I think we are headed in the right direction because we need to somehow attract the younger generation to our sport. We definitely need some changes.'
ALSO READ: Virat Kohli becomes fastest in the world to score 10,000 ODI runs leaving Sachin behind
Follow CCAPS: Chowgule Center for Applied and Professional Studies